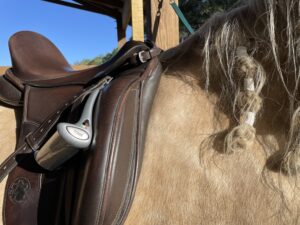 White Sun Saddlery is an independent saddle fitter able to work with all types of English saddles.
Saddle Fitting:
Get a full assessment of your horse and current saddle or our saddles if seeking to purchase. Small adjustments to flocking can be made on site if necessary. A fitting session runs approximately 60-90 minutes and includes:
Review of your horse's health history
Hands on evaluation of your horse's back
4 point tracing of your horse's back
External inspection of your saddle
Static and dynamic fit evaluation of your saddle on your horse
Or static/dynamic fit evaluation and test rides of all appropriate models of our saddles
Minor adjustments as needed
Be prepared to ride during the evaluation. Excess flocking may require additional charge.
$125, $.50/mi round trip travel charge may apply.
Fit Assessment:
Already have your tracings but need a professional assessment before purchase? Get all the above except tracings and flocking. Evaluate and test ride up to 5 saddles.
$100. Travel fee may apply
Bridle Fitting:
Flexible Fit bridles currently in use for bridle fitting. Let us evaluate your horse for proper size and shape of crown piece, all straps, and various nosebands, then test ride configurations for the best results. Finish with confidence your new bridle not only fits, but rides comfortably on your horse.
$75 or $50 add on to saddle fitting. Trip charge may apply
Bit Fitting
Winderen gel bits available to fit and test ride. Try a variety of gel mouthpieces and cheekpieces to find the best connection to your horse.
$75 or $50 add on to saddle or bridle fit. Trip fee may apply